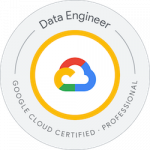 A Professional Data Engineer makes decisions based on the collection, transformation, and publication of data. He is responsible for designing, creating, operating, protecting, and monitoring data processing systems with a particular emphasis on security, compliance, scalability, efficiency, reliability, flexibility, and portability. In addition, this professional must also be able to continually use, implement, and train current machine learning models.
The Professional Data Engineer exam assesses your ability to complete the following tasks:
Design data processing systems
Create and operate data processing systems.
Operate machine learning models;

Guarantee the quality of the solution.
If you are interested in obtaining this certification, this is the learning path recommended by Google to prepare for the exam:
Additionally, we recommend the following trainings as part of your readiness journey: