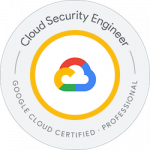 A Professional Cloud Security Engineer helps companies create and implement a secure infrastructure on the Google Cloud Platform. By understanding the best security practices and security requirements in the industry, this professional designs, develops, and manages a secure infrastructure that leverages Google's security technologies. Cloud Security Professional must be competent in all aspects of cloud security, including identity and access management, establish organizational policies and structures, use Google technologies for data protection, configure network security defenses, collect and analyze Google Cloud Platform Logs, incident response management and understanding of regulatory issues.
The Professional Cloud Security Engineer exam assesses your ability to complete the following tasks:
configure access in a cloud solution environment;

configure network security;
guarantee data protection;
manage operations in a cloud solution environment;
ensure compliance.
If you are interested in obtaining this certification, this is the learning path recommended by Google to prepare for the exam:
Additionally, we recommend the following trainings as part of your readiness journey: