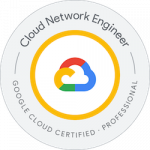 A Professional Cloud Network Engineer implements and manages network architectures on the Google Cloud Platform. This professional has at least one year of practical experience working with the Google Cloud Platform and can work in network or cloud teams, with architects who design the infrastructure. Leveraging his expertise in deploying VPC, hybrid connectivity, network services, and security for established network architectures, this professional ensures efficient cloud deployments with the command line interface or the Google Cloud Platform Console.
The Professional Cloud Network Engineer exam assesses your ability to complete the following tasks:
design, plan and create a prototype of a GCP network;
implement a GCP virtual private cloud (VPC);
configure network services;
implementar interconexión híbrida;
implementar seguridad de red.
If you are interested in obtaining this certification, this is the learning path recommended by Google to prepare for the exam:
Additionally, we recommend the following trainings as part of your readiness journey: