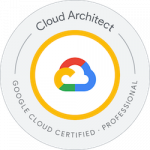 A Professional Cloud Architect prepares organizations to use Google Cloud technologies. By deeply understanding the architecture and cloud technology of the Google Cloud Platform, this professional can design, develop, and manage robust, secure, scalable, dynamic, and highly available solutions that help achieve business goals.
The Professional Cloud Architect exam assesses your ability to complete the following tasks:
Design and plan a cloud solution architecture;
Manage and provision the infrastructure of the cloud solution;
Design with a focus on security and compliance;
Analyze and optimize technical and commercial processes;
Manage architecture deployments in the cloud;
Guarantee the reliability of solutions and operations.
If you are interested in obtaining this certification, this is the learning path recommended by Google to prepare for the exam:
Additionally, we recommend the following trainings as part of your readiness journey: